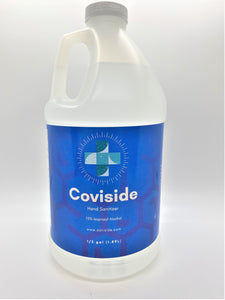 Coviside Half Gallon Hand Sanitizer (75% Alcohol)-Extra Strength Liquid
Sales are final. Please be sure to read the description of the material. Thanks!
 Coviside is a WHO approved formulation hand-sanitizer.
Coviside is a strong medical grade product designed to kill 99% of bacteria. Most brand name hand sanitizers contain 60-70% ethyl alcohol, while our formula is 75% Isopropyl alcohol. It is completely safe to use and will do the best job in keeping your hands completely clean. 
The best container for this product is:
8-32 oz spray bottles 
2-4 oz personal spray bottles
Any refillable pump bottles you have for soap 
Coviside does not come out as a foam or a gel. It has a water-like consistency and contains Glycerin for added moisture. Don't worry, this consistency is just as effective. Coviside can be used in gel dispensers, however it will simply come out more watery. When manufacturing the good, we wanted to maintain its prime purpose of killing bacteria. For that reason, we have not added aloe or artificial perfumes/scents. If we receive many requests that these be included, then we will consider adding these ingredients. For now, we have manufactured what we know will get the job done when it comes to cleaning hands.
FDA Accepted Product
NDC Code: 76737
Estimated Delivery: 3-5 Days
Shipping Calculated at check-out
Manufactured in Woburn, Massachusetts
Warnings:
Keep away from flames. Keep away from eyes. Do not ingest material. 
haven't received this yet
Coviside Half Gallon Hand Sanitizer (75% Alcohol)-Extra Strength Liquid
Great Products.
We have been using Coviside since the pandemic began and kept us safe. We are extremely satisfy with the product and services.
Definitely worth the cost
This has been the hand sanitizer we have used the most and we are very satisfied with it. It is not harsh on our hands and use it all the time. Buying the 1/2 gallon is our best option and will keep coming back for more. Also, customer service is excellent!
Worth the extra cost
After happily going through 2 containers of Coviside, I encountered a lower cost hand sanitizer at one of the big box stores and I bought some.
Big mistake. That other stuff smells bad. They use ethyl alcohol and some kind of scent. Also theirs is made in China. I will dispose of that and I have ordered more Coviside. The smell of the isopropyl alcohol in Coviside is distinct, but not icky. Like rubbing alcohol. Please don't add a scent to Coviside!